It was a "Big Chill" kind of weekend. You know the kind. Good friends, couples, hanging around a house together for 48 hours straight.
Not everyone was a couple though. Sara wasn't anymore and I could tell she was lonely in the way a person is when it's not how they want to be. Even surrounded by friends.
Saturday morning, I flopped down on the couch resting my chin on her shoulder. "You can continue sitting here idle, lamenting about your situation, or we could do something. Show me how it works."
I'd never seen Match.com before. It was fascinating! I had a million questions.
"What's a "wink"? Who's viewed you? Do you message them? Do they know we're looking at them too? Deleting this guy?"
"Our signs aren't compatible."
"Not just that. Interests, education, employment, importance of family, can I picture myself naked with them?"
"Aren't you getting ahead of yourself
?
How do I see more guys like him? Here we go!"
She sighed. "I'm bad at this. What am I doing wrong?"
"Nothing. Show me some emails."
So for the next few hours I enthusiastically handpicked guys based on profiles best suiting Sara. And photos, being much more interested in the context of said photos (children, family, friends) rather than chiseled cheeks and gorgeous eyes. Ok, I'm a sucker for eyes so those added points.
Gaining her confidence by my stellar first selections she said, "Email them."
Feeling like
Cyrano de Bergerac, I did
. The gist…
I'm married writing on Sara's behalf. She's hilarious, creative, intelligent, I'm a little jealous of her hot body (which I am). I promise you'll laugh. This is so fun.
It was a cute email and I was sucked in.
"Who viewed "us"? Do "we" have mail yet? Any winks?"
Currently, "we" have a successful reply rate.
I tell my kids, "It's not always what you say but how you say it."
I wrote this for Trifecta's 33-333 word prompt for the 3rd definition of
And Yeah Write Challenge Grid.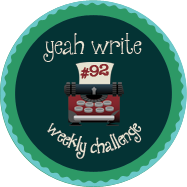 Please check out both places for some of the most outstanding and creative writing on the interwebs. Don't forget the The Yeah Write Speakeasy too for your fiction and poetry fix.