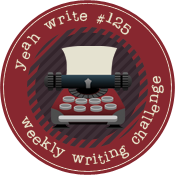 In a land far, far away enroute to the ruined, Spanish hamlet called Foncebadon (population 10); I had one of the best days of my life so I stole something to commemorate it.
Walking with my closest "Camino" friend, church bells sang just for us (it seemed) at the stroke of mid-day while crossing an ancient stone bridge; a bar of dark chocolate shared in the shadow of a steeple. Trees dripped with cherries. The famously mystical, wild, white dogs basked under benches. Laundry draped sun drenched lines. Crisp cervezas were sipped while smells of seafood paella wafted through windows of the albergue. You get it.
With a glass of vino tinto in my hand at sunset, we walked from a restaurant down the hill to our hostel and sat on a log gazing blissfully out at pastures and snowcapped mountains. Interrupting cowbells, I sighed, "I'm keeping this goblet as a memory of one of the best days of my life."
It was the one-year anniversary of my accident.
The next morning, roosters woke us early, all twenty-five pilgrims sleeping in one room. And as we sipped our café con leches watching the sunrise, backpacks already organized, discussing how far we'd walk that day and where we'd sleep, my friend gently grabbed my elbow.
"I woke at 1:00 thinking about the goblet," he said.
"I thought about it during the night too," I replied honestly because I had. Because I wanted it.
He placed his hands on my shoulders and I'll never forget what he said.
"This village is a special place. We both feel it and we are pilgrims. We don't take things. It isn't necessary. We have every memory and they live in our hearts. No one can take them away. We must leave this village as we found it. If we don't, the feeling will be spoiled forever. You must return the goblet before we go on. I will come with you." (He's German and very authoritative.)
I felt like a naughty child being scolded. And I guess I was but he was also right. I had thought about it too; my sleep suffered from pangs of guilt knowing I wasn't behaving like I should.
So when the sun finished rising, we walked side-by-side down the hill. I gently rested the goblet against the back door of the restaurant so someone would see it without accidentally breaking it.
"Do you feel better?" he asked.
I felt lighter. I felt pure. I felt connected.
Into a new day's beauty. Into it's simplicity. Into new memories.
*********************************
Finally getting slowly back in the groove and that means heading back to one of my favorite places! Yeah Write. Some of the best lurking on the web but it's much more fun to participate!